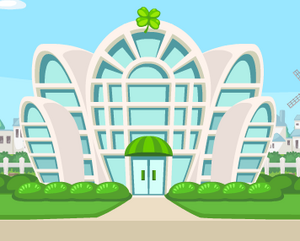 Nan's nursery is a shop that sells plants and garden materials. It is, obviously, run by Nan.
Item
Item type
Price (Coins or diamonds)
Produces item?
Harvest seasons
Pink watering can
decor
148
no
Fish flowerpot
flowerpot
128
no

chick flowerpot

flowerpot
128
no
floral contrast flowerpot
flowerpot
128
no
pink daisies
flower decor
375
no
mimosa
flower decor
720
no
orchid
flower decor
857
no
cattails
flower decor
500
no
pink tulips
flower decor
488
no
potted ferns
flower decor
388
no
4-leaf clovers
flower decor
1
no
cactus
flower decor
120
no
sunflower
flower decor
160
no
large sunflower flowerpot
flower decor
860
no
sunflower plant
flower decor
400
no
daisies
flower decor
888
no
baobab
tree decor
1300
no
cotton candy tree seed
tree seed
3
10
Seed of letter tree
tree seed
5
3
romantic flower bouquets
flower decor
1100
no
Fruit tree seed
tree seed
300

apple, orange, peach, grape, coconut, banana

(random)

10
packet of flower seeds
veggie seed
200
pink chrysanthemum, pink/yellow rose, romantic roses, red/white star flower, pirahna flower, funkie mushroom, clovers in a jar,
1
packet of vegetable seeds
veggie seed
20
radish (white/red), bok choy, bok choi, pumpkin, blue mushroom, carrot, watermelon, strawberry
1
modern vase
flowerpot
360
no
basic flowerpot
flowerpot
160
no
watermelon flowerpot
flowerpot
220
no
seed of coin tree
tree seed
500
coin fruit
3
decorative pumpkins
flower decor
1380
no
pink/green dinning table
Tree decor
6/5
no
lover bench
decor
10
no
Seed of luck tree
tree seed
11
luck star
3
seed of experience tree
tree seed
9
fruit of experience
3
dwarf kumquat
flower decor
2010
no
narcissus
flower decor
6
no
orange tree in  a pot
tree decor
2200
no
Basket full of tulips (right/left)
flower decor
1200
no
dreamlike dripping guanyin plant
flower decor
1900
no
pot with dreamlike clover plants
flower decor
1
no
white/pink/red rose box
ceiling decor
1200/1200/2
no
coloured/white flower hanging basket
ceiling decor
2/1000
no
Flower vines
ceiling decor
2200
no
The child lucy
decor
5210
no
star flower vase
flower decor
1000
no
Lollipop seeds
tree seed
3
Lollipop
10
balloon flower seeds
veggie seed
1
balloon bouquet
1
nut-tree seed
tree seed
4
?
?
Pack of ghost tree seeds
tree seed
4
?
?
yellow/red/purple flower seed
veggie seed
1200
A yellow/red/purple flower
1
Romantic star seed
tree seed
2
pink/white/orange romantic star cotton candy
3
Dark flower seed
veggie seed
1000
dark flower
1
Dark tree sand (seed)
tree seed
5
?
?
school flower terrace
decor
6000
no
Peach tree swing
tree decor
15
no
hibiscus plant
flower decor
1500
no
clover lollipop seeds
tree seed
2000
clover candy
10
sweet winter bonsai
tree decor
3200
no
sweet winter seed
tree seed
3
winter sweet doll
3
pot 'rose tree'
flowerpot
250
no
rose tree seeds
veggie seed
2000
rose tree
1
Love chocolate tree seeds
tree seeds
2
love chocolate
?
balloon plant pot
flowerpot
150
no
peace balloon plant seeds
veggie seeds
2000
peace balloon flower bouquet
1
hippy tree
shelf
3200
no
Birds -
decor
colorful/pink/orange
flapping left
2000
blue/purple 1/purple 3/ green
flapping right
1,1,300,1
green/orange/colorful
sitting left
1,2000,1
purple, colorful, blue
sitting right
500,1,1000
pink/green/blue
sitting front
2000,1000,300
1/2/3
parrot
3
More will be added to the list.